Ukraine ammo dump blasts blamed on 'possible sabotage'
Explosions and fire have hit an ammunition depot in Ukraine in a possible act of sabotage, officials say, leading to the evacuation of thousands of people.
Videos on social media showed the blaze and explosions on the horizon near Ichnya, Chernihiv region.
Around 10,000 people were moved from the area around the depot, about 109 miles (176km) north-east of the capital Kiev, emergency services say.
There were no casualties.
Deputy commander of the General Staff, Rodyon Tymoshenko, told a news conference the incident began with four explosions across the depot.
"The intensity of the blasts suggests that it was most probably sabotage," he said.
Security services are now investigating the incident.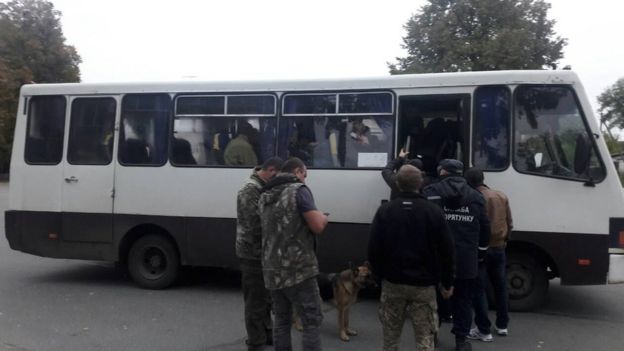 Ukrainian Prime Minister Volodymyr Groysman earlier tweeted that local authorities would provide accommodation for the evacuated, and that emergency services were on hand to help people.
The initial explosion at the base occurred at around 03:30 local time (00:30 GMT).

From 04:22 a 20km radius airspace closure came into effect, emergency services say. Rail and road links in the area are also suspended, and gas and electricity supplies have been disrupted.
Ammunition depot explosions have happened before in Ukraine, as the country continues its fight against pro-Russian separatists in its eastern regions.
"63 people sought medical treatment as they feel bad because of mild smoke," the message says.
The representatives of the Administration added that 18,794 people, who are located within dangerous zone, which within a radius of 16 km, have to be evacuated.
The evacuees should be provided with nutrition. The Administration will provide them not only with packed lunches, but also hot meals. According to the Head of Administration's Finance Department Valeriy Dudko, $7,8 thousand has to be allocated for that.
Reportedly, an explosion on the sixth armoury occurred in
Ichnia
, Chernihiv region.
The air-space within 30 km is shut down, traffic and railway movement are stopped due to the emergency situation.
Ukraine's Defence Ministry reports that as of 7 am the intensity of the explosions is 2-3 explosions per second.
Reportedly, the Military Prosecutor's Office of the Central Region opened a criminal proceeding on the case of explosions on the ammunition depot in
Ichnia.
Earlier, the President of Ukraine Petro Poroshenko will hear the report of the military and security forces due to the explosions in the 6
th
ammunition depot in
Ichnia.