Typhoon Mangkhut: 14 killed as storm batters Philippines
Some 14 people have been killed in a massive storm which brought destruction to the northern Philippines, a presidential adviser says.
Typhoon Mangkhut ripped through the Philippines' main island of Luzon, and is now moving west towards China.
Almost all buildings in the city of Tuguegarao sustained some damage, a government official said, and communications were down in places.
The storm packed winds of 185km/h (115mph).
Four million people were in its path, and thousands were evacuated amid warnings of 6m (20ft) storm surges.
Francis Tolentio, a political adviser to President Rodrigo Duterte, said up to 14 people were killed as a result of the storm.
Two rescuers were killed trying to help people trapped in a landslide. Unverified reports say the body of a young girl was found in the Marikina river, which flows through Manila.
The evacuation centre in the coastal town of Aparri is also said to have been destroyed and phone networks are down.
The typhoon recalls memories of the deadliest storm on record in the Philippines - Super Typhoon Haiyan in 2013 - which killed more than 7,000. However, preparation and evacuation procedures have been improved since then.
What is the latest?
The typhoon made landfall at Baggao, in the north-east of the Philippines, at about 01:40 local time on Saturday (17:40 GMT on Friday).
After losing some of its wind speed over land, it was downgraded from a super typhoon and is now travelling with wind speeds equivalent to a category four hurricane.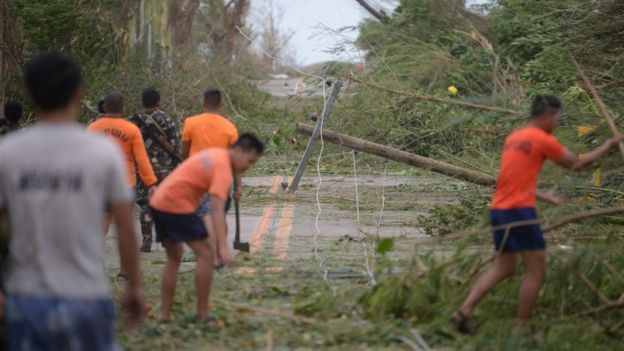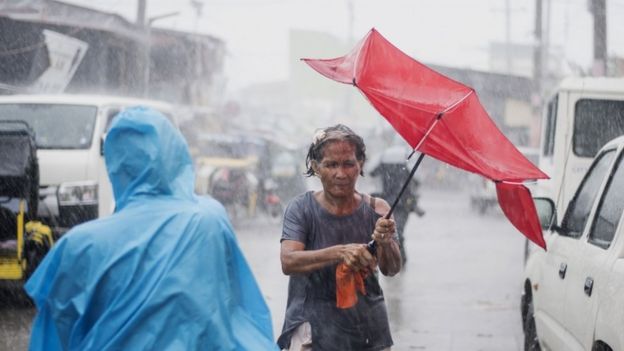 The storm - known locally as Ompong - has a cloud diameter of about 900km and is heading west at about 30km/h.
The Philippine Red Cross shared footage of rising flood waters and winds ripping through towns on Saturday morning.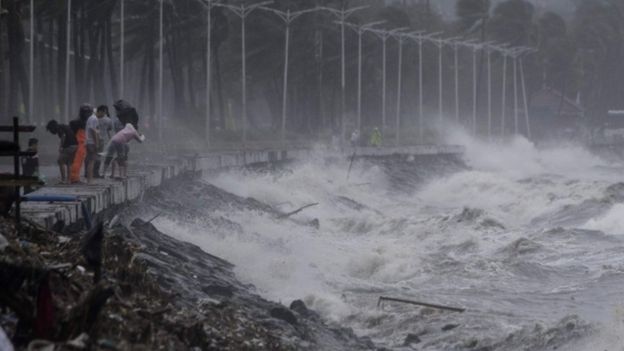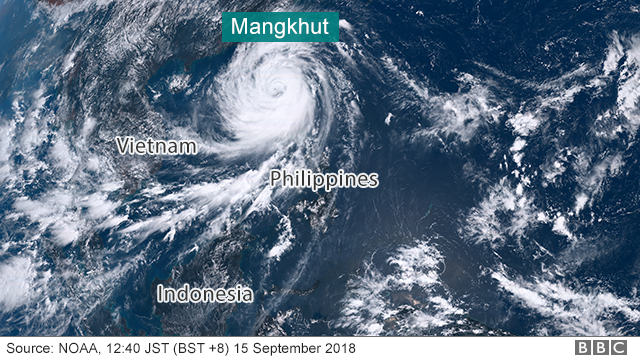 The typhoon is forecast to pass near Hong Kong on Sunday afternoon.
Authorities there have urged residents to stay indoors when the storm approaches. Weather experts say it may be the strongest tropical storm to hit the territory in decades.

In nearby Macau, shops have been boarded up and residents have been sticking tape on their windows.
The typhoon is expected to weaken into a tropical depression by Tuesday.
Authorities in the Philippines have said they were better prepared for the storm than in previous years.
Warnings were issued in dozens of provinces. Travel by sea and air was restricted.
Flights were cancelled, schools shut and the army was on standby.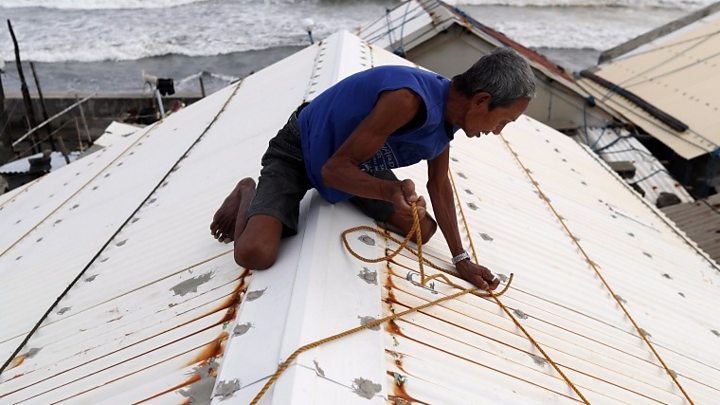 The heavy rains triggered 42 landslides, officials said.
"We are really frightened," Delaila Pasion, who had fled her home, told AFP news agency. "They say it is so strong, we were too scared to remain."
"During previous monsoon rains, half of our house was destroyed so I wanted to take my grandchildren to safety," she told journalists.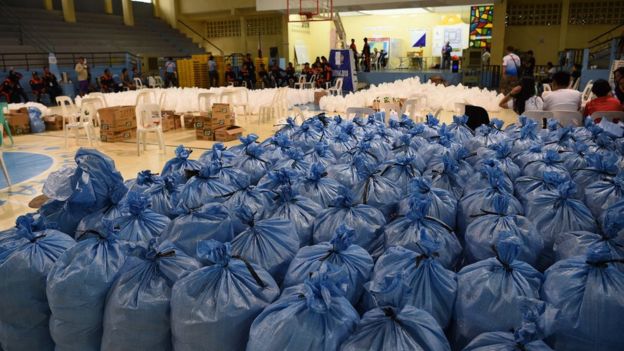 The Philippines is routinely hit during the typhoon season.
In China, where the storm is predicted to hit late on Sunday or early on Monday, the authorities have raised storm alerts to "yellow", which is the second level on the four-tier warning system.
High-speed rail services have been cancelled in parts of the south, local media report.