Chemical watchdog group to fulfill Syria mission
The Latest on U.S.-led missile strikes on Syria (all times local):
7:10 a.m.
A global chemical warfare watchdog group says its fact-finding mission to Syria will go ahead even after the U.S.-led airstrikes.
The Organization for the Prohibition of Chemical Weapons says in a statement that its team will stick to its plan to investigate last weekend's suspected poison gas attack in Douma.
The group says the mission "will continue its deployment to the Syrian Arab Republic to establish facts around the allegations of chemical weapons use in Douma."
Russia and Syria disagree with Western allies that gas was used by Syrian President Bashar Assad's forces to suppress opposition close to Damascus in an April 7 attack.
___
7:05 a.m.
Iranian officials have made calls to Syrian leaders in the wake of the U.S.-led airstrikes against Syrian targets.
Iran's president, Hassan Rouhani (hah-SAHN' roh-HAH'-nee), tells Syria's Bashar Assad (bah-SHAR' AH'-sahd) that America's goal is to justify its continued presence in the region.
That description of their conversation comes from Syrian and Iranian state news agencies.
Iran's foreign minister, Mohammad Javad Zarif, has spoken with his Syrian counterpart, too. Zarif says the U.S. is using allegations of chemical weapons to justify attacking Syria before inspectors from a chemical weapons watchdog agency begin their work.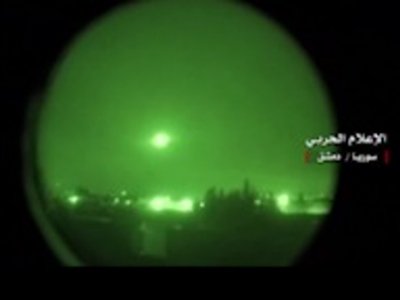 ___
5:50 a.m.
Iran's state-run IRNA news agency says Supreme Leader Ayatollah Ali Khamenei (hah-meh-neh-EE') has called the U.S.-led airstrikes on Syria a "military crime."
He spoke at a meeting with Iranian officials and ambassadors from some Islamic countries.
The report quotes Khamenei as calling the leaders of the United States, Britain and France — the countries that launched the attack — "criminals."
The allies' operation was intended to punish Syrian President Bashar Assad for an apparent chemical attack against civilians and to deter him from doing it again.
___
5:45 a.m.
NATO representatives are planning a special session to hear from U.S., British and French officials about their military strike against Syria.
The alliance briefing is expected later Saturday, and NATO's secretary-general has expressed strong support for the coordinated military action aimed at the Syrian governor's chemical weapons program.
Jens Stoltenberg says the missile strikes will erode the Syrian government's "ability to further attack the people of Syria with chemical weapons."
___
5:40 a.m.
The leader of Britain's largest opposition party is suggesting Prime Minister Theresa May could face a backlash in Parliament for her decision to join the United States and France in launching airstrikes against Syria.
The Labour Party's Jeremy Corbyn says the allies' bombing is "legally questionable" and risks further escalating "an already devastating conflict."
Corbyn says "May should have sought parliamentary approval, not trailed after Donald Trump."
The prime minister will appear before the House of Commons on Monday to explain her decision on joining the airstrikes
Corbyn says the strikes will make assigning blame for the use of chemical weapons in Syria "less, not more likely." He says Britain should be leading the response and "not taking instructions from Washington and putting British military personnel in harm's way."
___
5:30 a.m.
Syrian state TV has broadcast images of the destruction at a scientific research center near the capital of Damascus that was targeted in airstrikes by the United States, France and Britain.
Pentagon officials say the attacks targeted the heart of Syrian President Bashar Assad's (bah-SHAR' AH'-sahds) programs to develop and produce chemical weapons.
The Syrian military says more than one 100 missiles were fired against a military base in Syria's central Homs province and the research center in Barzeh, near Damascus.
The images shown on Al-Ikhbariya TV are the first of one of the targets. Seen in the footage are piles of rubble outside a destroyed building and a burned vehicle.
The Syrian military says the attack on the center destroyed an educational center and labs.
___
5:20 a.m.
France's foreign minister is threatening further missile strikes against Syria if the Syrian government uses chemical weapons again.
France joined the United States and Britain in a joint operation that has destroyed what Foreign Minister Jean-Yves Le Drian says is a "good part" of the Syrian government's chemical weapons arsenal.
He says France has "no doubt" that the Syrian government was behind a suspected chemical attacks last weekend. Syria denies responsibility.
Le Drian tells BFM television that the goal for the allied mission "was attained" but that if France's "red line is crossed again" there could be another attack.
___
4:55 a.m.
British Prime Minister Theresa May says the need to act quickly and protect what she calls "operational security" led her to decide to join the allied strikes in Syria without a prior vote in Parliament.
She says she'll make a statement in Parliament on Monday explaining her actions. A spirited debate is expected.
The United States, France and Britain have launched military strikes in Syria to punish President Bashar Assad (bah-SHAR' AH'-sahd) for an apparent chemical attack against civilians last week and to deter him from doing it again.
May has come under criticism from some British lawmakers for not bringing back Parliament into session before taking action against Syria,
___
4:45 a.m.
The European Union Commission's president says those who rely on chemical warfare must be held to account by the world.
Jean-Claude Juncker says the suspected use of poison gas last week in the Syrian city of Douma was — as he puts it — a "heinous chemical weapons attack carried out by the Syrian regime."
Juncker says the world "has the responsibility to identify and hold accountable those responsible" for that kind of attack.