Far-right gains as Merkel's party wins biggest share in German election
The euro has slipped following the result,
as investors digested the challenge Merkel faces to build a stable coalition government.
Angela Merkel is set for a fourth term as Germany's chancellor, according to exit polls.
However, the poll suggests the anti-immigration Alternative für Deutschland (AfD) party will enter the national parliament for the first time.
Mrs Merkel's CDU/CSU alliance took between 32.5 and 33.5%, well ahead of the second placed Social Democratic Party with 20-21% which would be its worst result since World War Two.
But in a major shock, the AfD took 13-13.5% support in Sunday's vote making it the country's third biggest political force.
It is now heading for the opposition benches of the Bundestag lower house - the first time a hard-right openly anti-immigration party with so many seats has entered parliament since World War Two.
The four-year-old party has links to the far-right French National Front and Britain's UKIP. Protesters took to the streets to demonstrate against the AfD.
AfD supporters cheered as the exit poll results were announced and co-leader Alexander Gauland vowed they would "change" the country.
AfD co-leader Alice Weidel told supporters "millions of voters have entrusted us with the task of constructive opposition work in parliament".
French far-right leader Marine Le Pen has congratulated the AfD on entering the German parliament.
Ms Le Pen, who lost France's presidential election to Emmanuel Macron earlier this year, wrote on Twitter: "Bravo to our allies from AfD for this historic score! It's a new symbol of the awakening of the peoples of Europe."
In her victory speech, Mrs Merkel vowed to win back voters from the AfD and admitted the party's entry into parliament poses "a big challenge".
Mrs Merkel failed to secure a ruling majority and now the process of coalition building will begin and could take several months.
She told supporters in Berlin: "Of course we had hoped for a slightly better result. But we mustn't forget that we have just completed an extraordinarily challenging legislative period, so I am happy that we reached the strategic goals of our election campaign.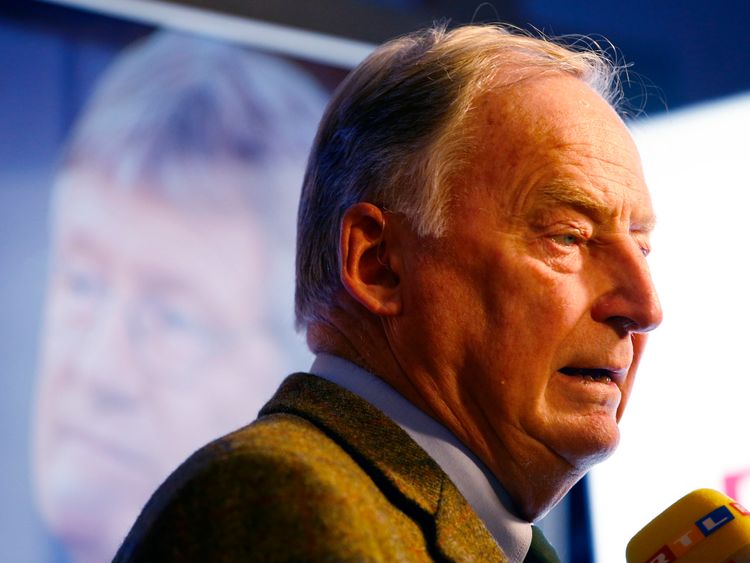 "We are the strongest party, we have the mandate to build the next government - and there cannot be a coalition government built against us."
Another three parties cleared the 5% hurdle to representations, including the liberal Free Democrats who secured 10%, anti-capitalist Left and ecologist Greens who both achieved about 9%.
SPD deputy leader Manuela Schwesig said her party would now go into opposition which rules out a re-run of Mrs Merkel's existing alliance with the party.
An alternative coalition for Mrs Merkel would be a three-way tie-up with the liberal Free Democrats (FDP) and the ecologist Greens.
Mrs Merkel, 63, faces four years of government in a fragmented parliament after the return of the FDP - unrepresented at national level for the last four years - and the arrival of the AfD.
Founded in 2013 by an anti-euro group of academics, the AfD has developed into an anti-immigration party that exploited Mrs Merkel's 2015 decision to leave German borders open to over one million migrants mainly from the war-ravaged Middle East.
Social Democratic Party leader Martin Schulz, who has conceded defeat, said the election was a "bitter day" for the party.
He added: "Especially depressing for all of us is the strength of the AfD, which for the first time brings a right-wing party into German parliament in such a strong position. This is a turning-point.
"The fact that we took in more than 1 million refugees in our country is still dividing in our country.
"What for some has been an act of humanity and charity is to others menacing, strange and filled with fear. We did not manage to persuade all of our voters that Germany is strong enough not to leave anyone behind."
Mrs Merkel said that she was not planning to try to lead a minority government.
Her current coalition partners, the centre-left Social Democrats, said after Sunday's election that they will not join the next government.
Asked on German public television whether a minority government of just her own conservative Union bloc is conceivable, Mrs Merkel replied: "I think that stable German governments are a value in itself, that our whole parliamentary system is different from those in countries that have a long tradition of minority governments."
She added: "I don't see it. I have the intention of achieving a stable government in Germany."
Far-right gains as Merkel's party wins biggest share in German election
Reviewed by
Alexander Von Stern
on
22:39:00
Rating: