Barcelona attack: Three suspects could be on run as investigation focuses on imam at centre of Spain terror cell
The Catalonian terrorist cell, responsible for the twin attacks in Barcelona and Cambrils, originally planned to carry out a major bombing campaign with explosive-laden vans. Antoni Gaudi's unfinished cathedral masterpiece was reportedly their main target.
Wednesday's apparent accidental explosion at their Alcanar hideout forced the terrorists to adjust their sinister plans. The group of jihadists plotted to construct a number of bombs to blow up at least three targets in Barcelona, the Spanish online portal El Espanol reported Saturday.
Citing police sources, the online publication reported that potential targets included Gaudi's iconic masterpiece, the basilica of the Sagrada Familia. La Ramblas in Barcelona, the scene of the van attack on Thursday, was second on the list. The third potential target for the terrorists might have been the port area of Barcelona.
The initial plan for the multiple attacks envisioned assembling up to three improvised explosive devices (IEDs). Some reports indicate that the jihadists mulled hiring a large truck, or several smaller vans to inflict a maximum carnage.
Catalan authorities have already revealed that the terrorist network planned a much bigger atrocity than the ones which unfolded in Barcelona and Cambrils Thursday and Friday.
"They were preparing one or several attacks in Barcelona, and an explosion in Alcanar stopped this as they no longer had the material they needed to commit attacks of an even bigger scope," said Josep Lluis Trapero of Catalonia's police at a news conference Friday evening.
The initial plan was scuppered when the terrorists allegedly mishandled the explosive material and accidentally blew themselves up in the safe house in Alcanar. It is believed that at least two suspects died in that explosion.
A few hours later, five more members of the cell were shot dead by police as they ran over and stabbed people in Cambrils. These two attacks killed 14 and injured more than 130 people.The accident apparently prompted other members of the terrorist cell to switch to plan B, staging the ramming attack on La Ramblas using a rented van that had no explosives.
Examining the ruins of the Alcanar explosion site, investigators found an arsenal of explosive material; including dozens of tanks of butane gas and traces of the triacetate triperoxide (TATP) explosive, dubbed the 'Mother of Satan.'
Triacetone triperoxide has been used by Islamic State (IS, formerly ISIS/ISIL) and other terrorists before – the 7/7 bombings in London and the November 2015 Paris attacks. TATP which looks like a white powder is highly unstable and difficult to detect; but it can explode with a force that's roughly 80 percent as strong as TNT. Terrorists presumably planned to detonate the gas by using TATP explosives.
If the terrorists' original plan succeeded, the death toll might have been significantly higher. The Sagrada Familia is the most visited tourist attraction in Barcelona. In 2016, 4.5 million people entered the basilica's unfinished yet stunning interior, El Espanol reported.
Construction of the Sagrada Familia began in March 1882 by Francisco de Paula del Villar. Antoni Gaudi accepted the commission in 1883 adapting the initial design of the Catholic Church sanctuary to his unique style.
From 1914 until his death in 1926, the Catalan architect dedicated himself exclusively to the work of the Holy Family cathedral. Following Gaudi's death, construction progressed slowly.
The unfinished facade was first lit in 1952 and nine years later the museum was opened to the public. So far, roughly 70 percent of the cathedral has been built. The basilica, which is part of a UNESCO World Heritage Site, should be fully completed by 2026.
In the latest development, police raided the house of an imam in the town of Ripoll Saturday. The cleric, identified as Abdelbaki Es Satty, authorities believe, might have served as the spiritual leader of the terrorist cell involved in the dual attacks. The imam was last seen Tuesday according to his landlord, a day before the explosion in the village of Alcanar Platja.Investigators believe the attacks in Barcelona and Cambrils were organized by a cell of at least 12 terrorists. Five of them were killed in Cambrils and four others detained. Authorities have also identified three others, two of whom could have died in Alcanar.
On Saturday, Spanish authorities announced that the terrorist cell has been fully dismantled, but that the manhunt for other suspects is ongoing. "The cell has been completely dismantled," Spain's interior minister Juan Ignacio Zoido told reporters.
"We can't say the investigation is finished until we locate or detain all those who we think form part of this terror cell," added Joaquim Forn, interior minister of Catalonia. Police are still searching for Younes Abouyaaqoub, 22, who has not been ruled out as possibly being the van driver in Barcelona.
Spanish police have raided the home of an imam they believe may have been at the centre of a plot to commit the terror attacks that killed 14 people.
A van was used to kill 13 and injure more than 130 people in Barcelona on Thursday, and hours later a second attack took place in the seaside town of Cambrils, leaving one person dead and 13 injured.
Police have released a diagram naming 12 suspects in the attack, three of whom are currently believed to be on the run.
They include 22-year-old Younes Abouyaaqoub, who is thought to have been at the wheel of the van that ploughed into crowds of people on Barcelona's La Rambla thoroughfare.
A graphic published by El Pais names the five attackers shot dead in Cambrils, including Moussa Oukabir, at least two people killed in an explosion in Alcanar and four suspects in detention. Three others - Youssef Aalla, imam Adelbaki Es Satty and Abouyaaqoub - are feared to be at large.
The alleged cell includes four pairs of brothers, all from the picturesque Pyrenean town of Ripoll, and most are believed to be of Moroccan origin.
Police believe that Es Satty may have been the ringleader of the undetected terror cell, who was possibly responsible for radicalising a group of attackers who included a former waiter, extreme sports instructor and teenage football fan.
The imam, in his 40s, has travelled to Belgium several times since 2015, El Periodico reported, and was linked to suspected al-Qaeda recruiters behind the 2004 Madrid bombings.
Es Satty was last seen on Tuesday after telling his flatmate he was going to Morocco, Spanish newspaper La Vanguardia reports.
He is said to have a wife and children in his home country but lived and preached in Ripoll - the town that was home to the vast majority of named attackers including a 17-year-old boy among those shot dead in Cambrils.
Police have also connected the attacks with a large explosion in the town of Alcanar about 120 miles south of Barcelona, on Wednesday night, in which they believe Es Satty may have been killed alongside other plotters.
Investigators confirmed that they had found the remains of at least three people in the Alcanar house, which is thought to have been used as a bomb factory and as a base from which the group planned the attacks in Barcelona.
It is thought they may have planned to use large butane gas canisters for even larger scale attacks, and newspaper El Espanolsaid one plan could have been to drive a lorry full of explosives into Gaudi's world-famous Sagrada Familia cathedral in Barcelona.
Information from a rental company indicated that the attackers had earlier tried to rent a large lorry, but were prevented from doing so when the driver failed to produce the necessary paperwork.
​Josep Lluis Trapero, the head of Catalonia's police force, said investigators believe plotters were preparing multiple assaults for "some time" before their base was accidentally destroyed.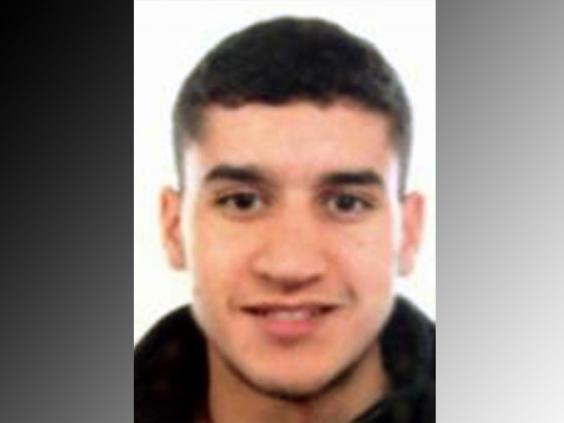 One or more attack was being planned in Barcelona and the perpetrators had material to carry out a much bigger assault, Mr Trapero told a press conference.
"Because of [the explosion in Alcanar] the attack in Barcelona and the one in Cambrils were carried out in a more rudimentary way than originally planned," he added.
Mr Trapero said none of the suspects were previously known to security services for terrorism, raising questions over how a large group of young men was able to be radicalised and prepare multiple attacks without detection.
Isis claimed responsibility for both attacks in a new statement released on Saturday that attributed the atrocities to "covert units" of "Islamic State soldiers".
The group's statement included a reference to an extra attack on a bar using "light weapons" that did not take place and included an incident where a car drove through a police checkpoint after the van attack.
Investigators have not confirmed the ramming, after which a man was found stabbed to death inside the car, is linked to the attacks but there is mounting speculation that one of the terrrorists could have hijacked the car and fled.
Isis' statement referred to the targets as Jews and "Crusaders" – a term used to describe Christians and citizens of countries in the US-led coalition against Isis.
At a press conference on Saturday, Spanish interior minister Juan Ignacio Zoido said police had "dismantled" the cell and no new attacks were imminent, but Catalan police said searches remained underway for extremists that pose a continued threat.
Fears were continuing to grow over the fate of seven-year-old Julian Cadman, a dual British-Australian national, who became separated from his mother during the Barcelona attack.
Julian's father and grandmother are believed to have arrived in Spain on Saturday after travelling from Australia.
Victims from 34 nationalities were among those killed and injured in the two attacks. Local authorities have identified

eig

ht victims of the attack in Barcelona as an Italian, two Portuguese, three Spanish, one Spanish-Argentine and an American.
The victim of the second assault in Cambrils has been identified as a Spanish woman, who died of her injuries in hospitals.
Family members and government officials have also said another two Italians, a Belgian and a Canadian are also amongst the dead..
King Felipe VI and Queen Letizia visited the victims of the atrocity and spoke to medical staff at Barcelona's Hospital del Mar before laying a wreath amid floral tributes on La Rambla.
​
Authorities said 53 people injured in the attacks were still in hospital on Saturday, with 13 in a critical condition and 22 in a serious condition.
Barcelona attack: Three suspects could be on run as investigation focuses on imam at centre of Spain terror cell
Reviewed by
Alexander Von Stern
on
22:31:00
Rating: