President Trump began his highly anticipated meeting Friday with the man believed to have ordered interference in the 2016 U.S. presidential election. Trump's first direct talks with Russian President Vladimir Putin leave much at stake for both sides.
The world was watching closely as the leaders met on the sidelines of the G-20 summit in Germany. It comes at a time of growing tensions over the increasingly assertive U.S. military role in Syria and ongoing concerns over Russian backing for rebels in Ukraine and increasing friction between the Kremlin and NATO.
Syria, Ukraine and the battle against terrorism will no doubt come up at the planned 35-minute chat set against the backdrop of antiglobalist protests. Russia has also raised objections to U.S. calls for tighter economic sanctions on North Korea after its latest missile test.
But those issues are the undercard to the dynamics of president's meeting with the Kremlin leader accused of overseeing a hacking and disinformation effort on Trump's behalf.
After months of anticipation and intrigue, President Donald Trump and Russian President Vladimir Putin are sitting down for their first meeting.
The two exchanged brief pleasantries earlier Friday on the sideline of the G-20 summit of industrialized and developing nations.
Up front, Trump said he anticipates "a lot of positive things happening, for Russia, for the United States."
Their first sit-down meeting is expected to last for about 30 minutes and touch upon several complex issues, from the Syrian conflict to Russia's provocations in Ukraine.
However, the meeting also falls under the shadow of accusations that Russia meddled in the 2016 presidential election — and Trump is under pressure to raise those concerns with Putin in their first meeting.
Trump, on Thursday, said he believes Russia may have interfered in the election, but he said that he believes other countries may have been involved as well.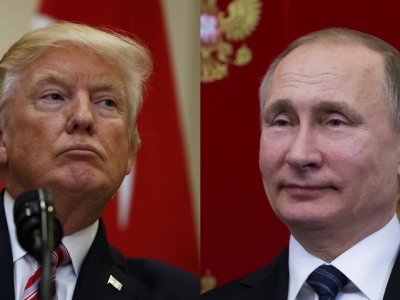 Reviewed by
Alexander Von Stern
on
07:29:00
Rating: